The town of East Grinstead is a town and Parish in the northeastern corner of Mid Sussex Dirtric of West Sussex in the south of England near the East Susssex, Surrye and Kent borders. The town has a special spiritual significance and has become the headquarters for many religious and philosophical organizations.
I would be grateful to be contacted by people for whom this is a viable proposition and who have a genuine interest. This property is definitely worth a proper viewing to see how much space it has, both internally and externally.
Much Love,
Sandy Stevenson
HOUSE SALE
"Camelot" East Grinstead, West Sussex
A SPECIAL HEALING SPACE

An interesting and unique Victorian semi detached cottage offers 3 double bedrooms and a large converted attic room (b/room 4) with a lovely view over garden. The property faces south and is spacious and light with a special healing energy. The mature garden has lots of trees including an old healing oak tree, cherry and plum and a bubbling stream creates a harmonious and peaceful ambience. Various birds, squirrels and wild ducks frequent the garden with its summer house, secluded sanctuary with copper pyramid and Japanese garden. The property layout gives the feeling of the house being detached.

Extends further to the left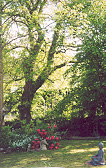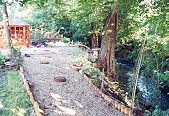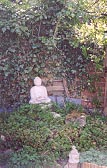 Copper pyramid in Garden Sanctuary
AUTUMN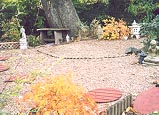 Spring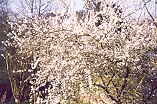 Fruiting Cherry Tree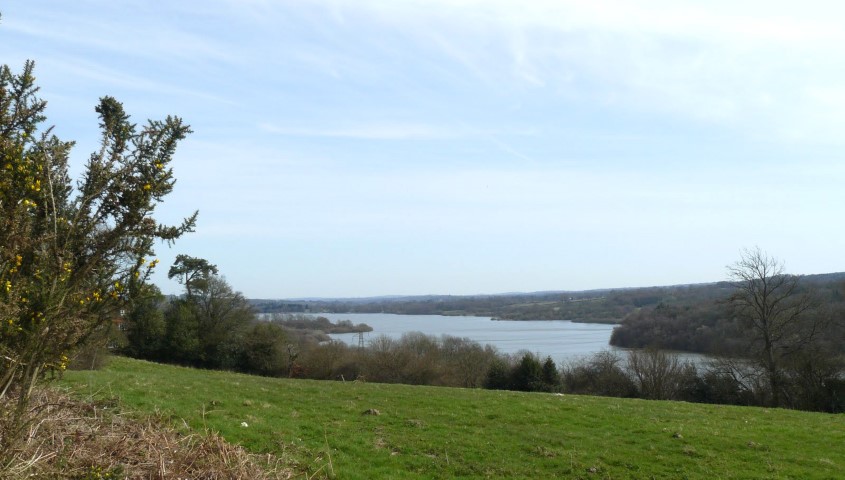 The house is on the edge of lovely countryside ne the South Downs. The reservoir (above) is around 10 minutes walk through public bridle ways in fields.
Some indoor pictures ahead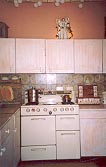 Stable doors - back and main front doors
Part of kitchen
Bathroom
Original Pine Victorian natural oiled doors all through house.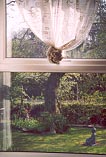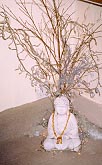 The stream and ancient Oak tree in garden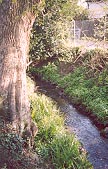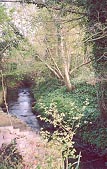 Several senior partner Estate agents comments;
1. "We were most impressed with your unique property and lovely gardens." Halifax
2. "It has such a wonderful feeling. I have no doubt that everyone viewing it will experience the same feeling. The presentation is excellent. I am sure a lot of people will want to live here.
3. It is so spacious and light and well presented. I do a lot of property valuations, but this house is quite unique. I can't actually compare it to any other properties I have seen. It is really interesting, lovely and it feels so nice."
"Camelot" East Grinstead, West Sussex
LOCATION
The house is located in East Grinstead, a lovely rural town, but with easy access to London, motorways and airport. It has a mainline train station with a half hour peak train service to London (hourly off peak). It is 15 minutes drive to Gatwick airport and both M23 and M25 motorways. It is only 30 minutes drive to the ocean at Brighton.
East Grinstead has always been a rather special and quietly spiritual town. It has attracted various philosophical groups and religions including the Rudolph Steiner schools, European Morman Temple and Church of Scientology headquarters. The Buddhist, Sufi's and others are nearby. (To get an idea of the town see: http://www.egnet.co.uk )
The house is situated in a valley on the southern fringe of town, with a recreation ground and lovely countryside and reservoir within easy reach. It is conveniently accessible to the town centre with its excellent shopping facilities and main line railway station. Although the house is within walking distance of the town centre, it is not close enough to attract fringe town centre parking. It is on a local bus route to town and nearby villages. This non estate property is ideally suited for a family who wish to enjoy the peace of rural England and yet be close to city amenities.
It is near Dunnings Mill Squash Club and Leisure facility with an indoor swimming pool and a Carpet Bowling club. Within a 5 minutes walk are the local Infants & Primary school, the Peredur Rudolph Steiner schools and a well stocked local shop with post office, news agency, fresh organic bread, video hire, etc.
The lovely village of Forest Row with The Steiner Michael Hall and Emerson College are about 6 minutes drive. For students attending Michael Hall, there is a back route to Michael Hall that avoids the town centres. Forest Row offers a complete range of organic products and fresh produce, an organic bakery, organic meat, medicinal herb shop and various therapies.
East Grinstead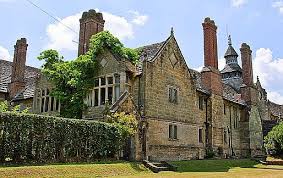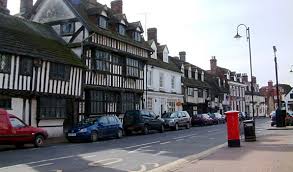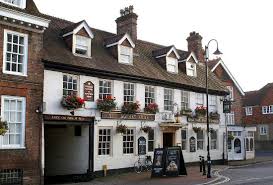 THE PROPERTY
This substantial Victorian semi-detached cottage was built around 1895 of cavity brick with a slate roof. The house is spacious and light with a lovely view over the garden. It has three good sized double bedrooms, plus a large attic room. The house and garden are south facing, and so benefit from a sunny aspect all day. A large mature garden has many features, including many evergreen shrubs, rich soil, a lovely stream, a secluded garden sanctuary with a large copper pyramid to sit in peace under the stars. The summer house located in a Japanese garden by the stream has many mature trees including a lovely old healing oak tree. The house is on a road on the edge of the countryside. Wierwood reservoir is around 15 minutes walk through fields.
As the house is called Camelot, we have a sword set in the ground!
The house is made warm and comfortable with two attractive, working, stone fireplaces, full gas central heating, many double radiators, cavity wall insulation and double glazing to most windows. Many features include some old oak beams and original pine panelled doors. Tasteful modernization includes rewiring, additional power points, recent gas boiler and copper water tank. The house is in good decorative order.
HOUSE
* Character features
* Two large working Yorkshire stone fireplaces.
* Some old oak beams.
* Original Victorian pine panelled doors.
* Front and back stable doors.
* 9 foot high ceilings
* Recent copper water tank.
* Recent gas boiler.
* Full gas central heating. Good lengths radiators, some doubles.
* Lots of power points. (e.g. 10 in living room)
* Cavity wall and roof insulation.
* Mainly double glazed - with original Victorian frames
* White shell bathroom suite.
*Large 1950's cooker (recently serviced with new fittings).
* Quiet neighbours - not overlooked
GARDEN
* Stream. Never floods.
* Mainly lawn with landscaped Japanese garden.
* Large single garage and 3 car driveway.
* Several patio areas and two rockeries.
* Garden sanctuary with pyramid.
* Mature trees include large Oak, fruiting Cherry and Plum trees.
* Large, mature grape vine. Excellent for wine